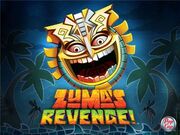 The
Tiki Gods
 are main bosses and the main antagonists of the game, Zuma's Revenge. They are encountered every ten levels
He is the First Boss you encounter at Level 1-10, and By far the Easiest Boss out of the Six.
Maga Maga is the Second Boss Encountered at level 2-10. He is the First Boss with a gimmick to his fight. (A Sheild.)
Baron Digo is the Third Boss Encountered at level 3-10. He is the Least Vulnerable of the Tiki due to the fact that a normal ball will only take away 1/4 of a heart.
Ad blocker interference detected!
Wikia is a free-to-use site that makes money from advertising. We have a modified experience for viewers using ad blockers

Wikia is not accessible if you've made further modifications. Remove the custom ad blocker rule(s) and the page will load as expected.