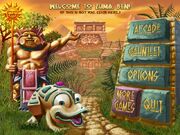 Zuma
(commonly known as the
Mighty Zuma
) is an anthropomorphic frog statue who first lives in the Mayan pyramids tries to save the land he lives in from the evil Tiki and success all the rest of his missions. His girlfriend is Mrs. Zuma, who is trapped by Zhaka Mu.
He appears in all of the games except Zuma Bongo and (possibly) Zuma Honey.
Ad blocker interference detected!
Wikia is a free-to-use site that makes money from advertising. We have a modified experience for viewers using ad blockers

Wikia is not accessible if you've made further modifications. Remove the custom ad blocker rule(s) and the page will load as expected.